The Law of Attraction Hypnosis Bundle
Attract the Life you Truly Deserve, with Hypnosis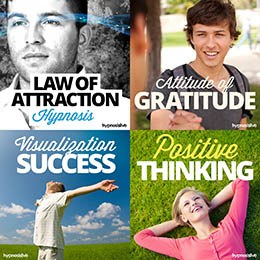 Would you like to be able to put the Law of Attraction to work for your benefit? To activate the energy of the universe and turn your dreams into realities?
The Law of Attraction works. If you move through the world confident of your worth and expecting good things, they'll be drawn to you. Tell the Universe what you want, by acting as if you already know with every cell in your body that it will come, and wait for it to arrive. Change the way you think about what you deserve, and you'll get everything you're entitled to. And you can do all of that in just a few hours – with help from hypnosis.
Get Everything You've Ever Wanted
The four cosmic sessions in the Law of Attraction Hypnosis Bundle will help you recondition your thought patterns, letting you get a clear picture of what you want, appreciate what you already have, exude positive energy, and attract the success that's rightfully yours!
Ignite the Law of Attraction in your life! Change your thinking to turn belief into reality and to enable the cosmos to bring you what you want. Connect your subconscious mind with real-world goals to manifest what you desire and change your life for the better, with the minimum of effort.
Activate the Law of Attraction right now!
Ask for what you need, and know you'll get it
Replace hope with expectation and need with desire
Overflow with positive, enjoyable, wonderful anticipation
Be thankful for what you've got, knowing that you've already been fortunate in so many ways. Learn to count your blessings so the concept of "wanting" has no hold over you. Discover the power to focus on what you have, rather than on what's missing from your life, and simply let the universe deliver the rest!
Be truly grateful for everything you have!
Accept and embrace the good things in your life
Focus on the positive rather than the negative
Appreciate all that you have, and let it make you happy
See your dreams in your mind's eye – and then watch them come true! Create powerful images to match your life goals. Tap into the power of visualization to be able to picture the perfect future, and then use the Law of Attraction to make that future a reality.
Visualize the perfect life you want!
Achieve more of your goals and dreams
Create a laser-like focus on what you need and desire
Overcome any mental barriers blocking your vision
Exude positive energy as you rewire your mind to see things in a good light. Learn to create powerful associations between what you think and what you desire. See things from their best perspective as you project constructive energy, using your own mental faculties to eliminate bad habits and the negative thoughts that go with them.
Permanently install positive thinking traits in your mind!
Overflow with optimism about what's possible
View any problems as exciting opportunities
See the good everywhere, and turn negative situations on their head
Download The Law of Attraction Hypnosis Bundle now to draw all the things you desire inexorably into your life!